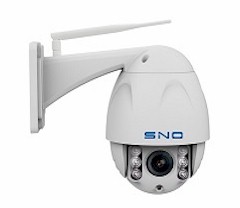 Key Specifications/Special Features:
1. True optical zoom lens: 5x optical zoom 2.7-13.5mm lens sharp image, super wide viewing angle 90-degree, horizontal 355-degree, remote control camera pan/tilt, can view anywhere you wanted, widely used in many fields such as home, office, warehouse, chain store, bank, kindergarten, school, hospital
and public security
2. 1080p full HD: 1920x1080p resolution at 30fps, extremely fluent live stream
Supports recording and playback via 64GB microSD card (not include buying) over 15 days event
Recording at mainstream 1920x1080p resolution, ONVIF compatible NVR, Synology NAS and blue Iris
3. Waterproof outdoor camera: waterproof degree up to IP66 and this camera is made of aluminum extremely durable and would not rust
Even in the terrible weather, can keep durable and stable operation, all-metal housing design protects your camera from the elements
4. Sharp night vision: with 22 infrared LED, night vision up to 25m, long distance makes you see further and bigger,
also enables high quality of day and night surveillance
5. Easy setup: true plug-and-play camera
easy to quick install, download the CamHi app to your iOS/Android smartphone, scan QR code from camera
then startup
Compatible with the 3rd party software Blue Iris
Vitorcam 1080p/2.0MP full HD 5x optical zoom 2.7-13.5mm lens
Note: this is 2.4GHz supported camera and it does not supports 5GHz networks
Kindly refer the instructional video and user's manual before use
Quick install guide:
1. Plug the camera to router
2. Download the Camhi app and install it on Google Play or app store
3. Scan the QR code from camera then startup
4. Enjoy live monitoring video anytime anywhere
Easy Wi-Fi startup
Before setup, make sure:
a. Wi-Fi network is 2.4GHz
b. Wi-Fi SSID and password do not contain following characters: \, = and &

1. Plug the camera into power adapter and network cable
2. Wait for 40 seconds, camera will rotate as it initialized
3. Download and run the app Camhi on iPhone/iPad or Android smart device
4. Tap add camera to search UID (make sure camera and smartphone in the same LAN network)
5. Add the camera with user name and password
6. Tap setting to manage Wi-Fi network
7. Select the SSID and access to router's password
Local web interface access:
We highly suggest the end-user to configure all the setting based on internet explorer on Windows 7 or Windows 10,
which requires active X-plug-in for complete functionality
This is SNO SNO 5x Optical Zoom Auto Focus PTZ IP Camera: you can order here in U.S.A.