H.265+ NVR POE RECORDING
Model: SNO-N6104Q-POE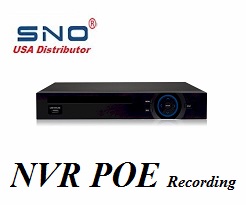 Product Overview
* 1.Support P2P cloud service,including cloud connecting ,cloud monitoring?
cloud transmitting to access IPC and NVR at any time and any place ?
* 2.Support International ONVIF Protocol,Support High profile S,
High profile G,can conform to the app ONVIF?RTSP standard and the IPC of much mainstream manufacturers,
* 3.Support for H. 265+ encoding format streaming access and decoding output;
* 4. Support preview image and playback of electronic amplification;
* 5. Support by event query, playback, backup video files;
* 6.Support all channels with screen display, support 4 screen the main circulation preview,
synchronous playback support 4ch;
* 7.Support rapid yuntai ;
* 8.Provide network centralized monitoring management software

This is SNO : H.265+ NVR POE you can order here in U.S.A.