4G open WRT Wireless Router
w/Sim card slot (T-Mobile & AT&T in USA)
Model: SNO-GTLYQ-4G-1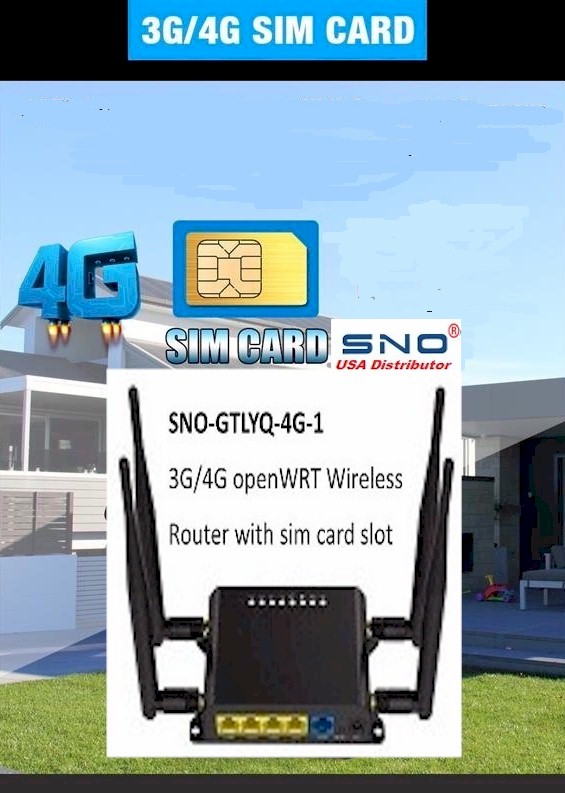 Simply Descripton The SNO-GTLYQ-4G use the latest wireless solution,
perfomance is better and more functions. Stable wireless signal,
stronger scalbilty, the Max transmison rate can up to 1200Mbps
(the 11ac PCIE mode is necessary). 2.4GHz up to 300Mbps,support 3G,4G
(3G,4G PCIE module is necessary), it could also dial-up via the USB port
should mount the 3G,4G network card and also need your fimware to suport this function),
also support watchdog feature. Provide 1 USB 2.0 interface, 1 Micro SD slot.
Product Feature
* Support 802.1n/802.1g/802.1b network protcol, Suport 802.3/802.1u protocol
* 5 of 10/10Mbps Auto MDI/MDIX
* 1 USB 2.0 interface
* 1 Micro SD Card Slot
* Support 3G/4G and 11ac
* Support watchdog feature
* Many kinds of way to protec your data transmission
More Specifications
This is : 4G open WRT Wireless Router
with Sim card slot you can order here in U.S.A.